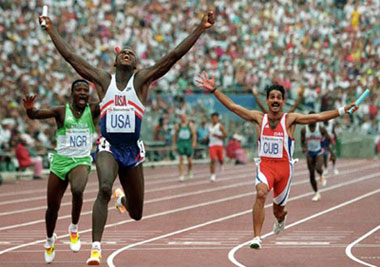 In the world of meat-eaters are of the opinion that one can live without meat only if're sedentary. But few of them know that there are so many great athletes, world champions, Olympic medalists, who were vegetarians. This compilation of athletes especially for vegetarians and meat-eaters such doubters vegetarians.
Carl Lewis (Carl Lewis) - a great athlete, sprinter, winner of nine Olympic gold medals, voted "best athlete of all time"
Mike Tyson - the famous boxer, absolute world champion in the heavyweight category by version WBC (1986-1990, 1996), WBA (1987-1990, 1996) and IBF (1987-1990). Holder of several world records
Muhammad Ali (Cassius Clay) Muhammad Ali (Cassius Marcellus Clay) - Olympic champion in 1960 at light heavyweight. Repeated world champion among professionals in the heavyweight division (in 1964-1974). One of the founders of modern boxing. "Flutters like a butterfly and sting like a bee" - tactical scheme, devised Ali
Viswanathan Anand - famous Indian chess grandmaster (1988), world champion in the FIDE (2000-2002), the 15th World Champion from 2007
Martina Navratilova (Martina Navratilova) - legendary champion (tennis), the winner of 166 awards, nine-times winner of Wimbledon, Czechoslovakia, "The first racket" of the world (1978-1987), 18 times Turnirax won the Grand Slam in singles, 31 times in the women's doubles and 10 times in the mixed doubles. She - veganka
Mac Danzig (Mac Danzig) - world champion in MMA (MMA), vegan
Isabelle Blanc (Isabelle Blanc) - Olympic champion in parallel giant slalom snowboarding world champion, champion of France
BOGALIY-Titovets (12.06.1979) - Russian biathlete, two-time Olympic gold medalist in the relay (2006, 2010), Honored Master of Sports of Russia, member of the Russian national biathlon team since 2000. Three-time world champion in relay races in 2001 and 2005 and 2006 in the mixed relay. Best result in the World Cup - 5th place in 2004. Won three World Cup races in personal.
Brendan Brazer (Brendan Brazier) - marathon runner, triathlete, vegan
Scott Jurek (Scott Jurek) - multiple winner marathons, including ultra-marathon (135 km mil/216 in Death Valley in California - the worst in the world race), vegan
Venus Williams (Venus Ebone Starr Williams) - tennis, winner of the title "The first racket" of the world (2002, 2006), 3-time Olympic gold medalist in singles at the Sydney Olympics in 2000 and together with his younger sister (Serena) in 2000 and in 2008, the 5-time winner of Wimbledon, the U.S.
Serena Williams (Serena Jameka Williams) - tennis, "The first racket" of the world (2002, 2003, 2008), awarded a first place in the global ranking of WTA, champion of the 2000 Olympic Games in Sydney, the two-times winner of Wimbledon, a 17-fold the winner of the Grand Slam tournaments, in the 2002-03 series won all four Grand Slam singles titles (but not in one year). Since then, no one has managed to repeat this achievement - no women, no men. USA
Ridgely Abel (Ridgely Abele) - national champion in karate
A. Anderson - Austrian weightlifter who has set numerous world records
BJ Armstrong (BJ Armstrong) - U.S. basketball star
Natasha Badmaev (Natascha Badmann) - troeborka, became the first woman in Europe, winning the World Championship Triathlon Ironman World Champhionship, winner of the championships in 1998, 2000, 2001, 2002, 2004 and 2005, Switzerland
Barfoot Ambrose (Ambrose (Amby) Joel Burfoot) - American world-class marathon runner, winner of the Boston Marathon in 1968, journalist and publisher of "Runner" (Runner)
Bernkvist Bob (Robert (Bob) Dean Silva Burnquist) - professional skateboarder, the Olympic flame torchbearer 2004, Brazil
Jonathan "Jack" Boyer (Jonathan "Jacques" Boyer) - a professional racing driver, cyclist, the first American to participate in the "Tour de France" in 1981, won the 1980 "Classic Course" in the U.S., and in 1985 completed a "tour around America "in 3120 miles in nine days, two hours and six minutes, has 87 amateur victories and 49 professional, in 1998, the name entered in the Boyer Bike Hall of Fame.
Surya Bonaly (Surya Bonaly) - Olympic champion in figure skating, France, vegan
Burvosh Peter (Peter Burwash) - tennis player, winner of the Davis Cup, vegan
Veltsel Jane (Jane Welzel) - U.S. champion in the marathon
Gianluca Vialli (Gianluca Vialli) - football player, coach, Italy
Charlene Wong Williams (Charlene Wong Williams) - Olympic champion in figure skating
Bill Goldberg (Bill Goldberg) - professional wrestler, wrestler, actor, U.S.
Tony Gonzalez (Tony Gonzalez) - American fubol player in the National Football League, vegan
Kathy Johnson (Kathy Johnson) - Olympic champion (gymnastics)
Frank Zane (Frank Zane) - three times Mr. Olympia, vegan
Sally construed - athlete, marathon
Kaat James Lee (James Lee "Jim" Kaat) - Pitcher (feed in baseball), USA
Andreas Kaling (Andreas Cahling) - champion in bodybuilding
Frederik Kalbermatten (Frederik Kalbermatten) - a professional snowboarder, extreme slopes, Switzerland
Anil Kambl (Anil Kumble) - cricketer, captain of team India
Billie Jean King (Billie Jean King) - tennis player
Killer Kowalski (Killer Kowalski) - professional wrestler, wrestler
Fedor Konyukhov - lone yachtsman, the great Russian traveler, many military extremes round the world of navigation, vegan
Robert De Costello (Robert De Costella) - marathon runner from Australia
Nicky Cole (Nicky Cole) - the first woman who has reached the North Pole
Chris Campbell (Chris Campbell) - Olympic wrestling champion
George Laraque - Canadian hockey player, striker, NHL tough guy, Montreal, vegan
Jack La Lanne - bodibilbder, fitness guru, vegan
Silke Laumann (Silken Laumann) - World champion in rowing in 1991, the winner of the World Cup in 1991, three-time Olympic medalist, Canada
Tony La Russa (Tony La Russa) - baseball player and later manager of the Chicago White Sox
Leyphaymer Levi (Levi Leipheimer) - cyclist, France
Liden Judy (Judy Leden) - champion of Great Britain, Europe and the world for hang gliding
Sixto Linares (Sixto Linares) - a world record holder for the 24-hour triathlon, vegan
Jamie Lynn (Jamie Lynn) - Skateboarder
Debbie Lawrence (Debbie Lawrence) - the owner of the world record so far in race walking for 5 km women
Cheryl Marek and Estelle Gray (Cheryl Marek, Estelle Gray) - world record holders at the moment (a bicycle, a tandem cross-country)
Ingra Maneki (Ingra Manecki) - World champion throwing disc
Bill Manetti (Bill Manetti) - Champion in weightlifting
Tai Mihelič (Taj Mihelich) - cyclist, bicycle freestyle
Robert Millar (Robert Millar) - cyclist
Dan Millman (Dan Millman) - World Champion (gymnastics)
Edwin Moses (Edwin Corley Moses) - two-time Olympic gold medalist in the 400 meters hurdles
Ben Matthews (Ben Matthews) - Champion in the marathon (U.S. Masters)
Jutta Müller (Jutta Muller) - skater, coach, her students have won 58 medals at the European and world championships and Olympics, Germany
Ricardo Torres Nava (Ricardo Torres Nava) - climber, the first conqueror of Everest from Latin America, twice conqueror of the seven great peaks of the world, an athlete century in Mexico
Paavo Nurmi (Paavo Nurmi) - distance runner, winner of 9 - Olympic gold medals in three Olympics (1920, 1924, 1928), and three Olympic silver medals and 20 world records
Judith Oakley (Judith Oakley) - Champion in cross-country running and 3-times champion of Wales (mountain bike and cyclo-cross), vegan
Fiona Oakes (Fiona Oakes) - marafonka, velogonschitsa, winner of the award for achieving Vegan 2004 (the Vegan Society's Achievement Award in 2004). Works foreman fire brigades. Organized and provides shelter for more than 250 rescued animals (horses, cows, goats, pigs, chickens. Dogs, cats, etc.). UK, vegan
Bill Pearl (Bill Pearl) - bodybuilding legend, 4-time winner of the title "Mr. Universe", won the competition for nearly 20 years - from "Mr. CA-53" to "Mr. Universe-71" by the NABBA; now coach champion, author, actor
Anthony Peeler (Anthony Peeler) - basketball player, shooting guard, one of the best players in the NBA, USA
Stan Price (Stan Price) - World record holder in weightlifting at the moment
Robert Parrish (Robert Lee Parish) - basketball player, center forward, nickname - "Chief", named one of the 50 greatest players in NBA history, the U.S.
Dennis Rodman - basketball player, actor, vegan
Murray Rose (Murray Rose) - Australian swimmer, 4-time Olympic champion, 6 - multiple world record holder
Geoff Rowley - Skateboarder
Rosalynn Sumners (Rosalyn Sumners) - skater, winner of the World Youth Championship in 1980, the world champion in 1983, a silver medal at the Winter Olympics in 1984, U.S. champion in 1982, 1983 and 1984
Steven Seagal - aykidzin (7th dan) - master of the Japanese martial art of aikido, actor
Dave Scott (Dave Scott) - 6 - tikratny winner triathlon (Ironman Triathlon), the first triathlete in the Hall of Fame USA
Littered Ella (Ella Soryl) - winner of the school competition, and finalist in the triathlon competition Vegan Triathlon in 2005 and 2006 - Eleven-year veganka from Christchurch (New Zealand) has challenged Professor Robert Picard (Robert Pickard)
Ella, who all his life does not eat animal products, this year won the school competition in triathlon and was a finalist in the competition Vegan Triathlon in 2005 and 2006. Ella wants to compete in a triathlon with Professor Picard alone.
Yuri Spasokukotsky - bodybuilder, bodybuilding coach, Ukraine, vegan
Lucy Stevens - triatletistka
Studemayr Salim (Salim Stoudamire) - American professional basketball player, defender «San Antonio Spurs» in the NBA. After the transition to vegan diet athlete said: "My stamina was amazing, I do not feel tired during the season! You know, I think that you can not have someone then who was his mother. This is wrong, "vegan
Ed Templeton - the greatest skateboarder
Jamie Thomas (Jamie Thomas) - Skateboarder
Sergei Trudnovsky - Skateboarder
Forest Whitaker - a black belt in Kenpo Karate, actor ("Ghost Dog - Way of the Samurai," "Bird"), owner of vegan restaurant (menu for vegans, raw-foodists), vegan
Bill Walton (William Theodore Walton) - National Basketball star U.S. striker, known for winning the game and following a vegetarian diet, is among the 50 best players in the history of the NBA (National Basketball Association).
Emil Watson (Emmil Watson) - winner of the gladiatorial contests in England
Naomi Uemura - Japanese traveler, mountaineer, climbed the highest peaks in the world, made a single rafting on the Amazon - a journey of 6,000 km, conquered the North Pole alone, vegan
Chris Fenn - cyclist (long distance), vegan
Frances Clare (Clare Francis) - swimmer
Hydro Ruth (Ruth Heidrich) - 6-time champion in the triathlon (Ironman Triathlon), the owner of 900 gold medals in the women at different distances (from 100 meters to the marathon event), winner of the title "Strong women in North America-1999", vegan
Hassing Peter (Peter Hussing) - European champion (boxing, the heavyweight division)
Hibberd Sally (Sally Hibberd) - champion of the United Kingdom (mountain bike)
Hellrigel Thomas (Thomas Hellriegel) - World Champion Triathlon Ironman World Champhionship-1997, set by the record in 1996, was not beaten for 11 years, Germany
Roy Hogan - vegan bodybuilder and former "Mr. America" ​​and its '54 makes a strong impression on the judges, and after the 50's, he eats a vegetarian.
Kate Holmes (Keith Holmes) - boxer, two-time world champion WBC middleweight title
Desmond Howard (Desmond Howard) - professional football player, football star
Paul Chetyrkin (Poul Chetirkin), extreme sports, a member of the world toughest races for survival, vegan
Robert Chick - bodybuilder
Greg Chappell (Stephen Greg Chappell) - cricketer, captain, and later - Coach, Australia
Vera Shimanskaya - double entry time world champion, Olympic champion in 2000, two-time European champion in 2001 in gymnastics, Russia
Cory Everson - a six-time Ms. Olympia, was the first woman to be on the "Arnold Classic" California Governor Arnold Schwarzenegger presented the award for lifetime achievement (Lifetime Achievements Award), not only for its achievements in bodybuilding and for the promotion of fitness and healthy living in the media.
Christine Marie Evert (Christine Marie Evert) - tennis player, "first racket" of the world (1971 - 1976), 18 titles at Grand Slam singles titles, including seven victories in the Championship of France, called the third female tennis player of the 20th century after Steffi Graf and Martina Navratilova, United States
Dee Edwards (Di Edwards) - runner, Olympic semifinal
Peter Brock (Peter Brock) (1945 - 2006) - Australian motor racing legend, won more than 1,000 victories in various competitions, nine time winner of the famous Australian race Bathurst, vegan (died while participating in a car race on 61 year of life)
Johnny Weissmuller (Johnny Weissmuller) (1904 - 1984) - swimmer, five-time Olympic champion and world record by 67, the first 100-meter swim a minute faster, actor (Tarzan)
Bruce Lee (Bruce Jun Fan Lee) (1940 - 1973) - Martial arts master, actor, philosopher, film director, producer, screenwriter, UK, died in an accident
Talgat Nigmatulin (1949 - 1985) - Actor ("Pirates of the twentieth century"), the USSR, the karate champion of Uzbekistan
Ron Pickering (Ron Pickering) (1930 - 1991) - swimmer, world record holder at the moment, coach, sports commentator Bi-bi-si, vegan
Ivan Poddubny (1871 - 1949) - the famous Russian fighter (Russian belt wrestling, Greco-Roman wrestling), undefeated by anyone, "champion of champions". In 1905-08 was the biggest winner of the World Championships in Greco-Roman wrestling among professionals (Paris), for 40 years of performances never lost a championship (had lesions only in separate bouts), in its 67 years has won the best fighters of America
Hilligen Roy (Roy Hilligenn) (1922 - 2008) - bodibilder, Mr. America 1951, Mister North Carolina, 1951, South Africa
Doug Ivan Hepburn (Doug Ivan Hepburn) (1926 - 2000) - weightlifter, world champion in 1953, with congenital foot problems and squint, he overcame his shortcomings and become famous weightlifter, set a record of Canada in 1950, won the gold in 1954 in the UK and gold at the Commonwealth Games in Vancouver in 1954, later became a business professional wrestler, Canada.
Vegetarian cycling club in England found more than 40% of the national records in cycling, cyclists across Europe, vegetarians have a higher percentage of sports victories than cyclists carnivores.
The famous swimmer Vegetarian Murray Rose was the youngest winner in swimming at the Olympics. He proved to be the strongest swimmer of all time and set many world records.
British swimmers swim across the English Channel vegetarians (Pas-de-Calais) is unprecedented in history - it lasted 6 hours 20 minutes.
Bill Pearl, bodybuilding legend, 4 - time winner of the title of "Mr. Universe", won the competition for nearly 20 years - from "Mr. CA-53" to "Mr. Universe-71" by the NABBA; now - his coach, a writer, actor. At the height of his boxing career in 1971, when Bill for the fourth time won the title of Mr. Universe, he weighed 109 pounds and had a volume of 53 cm biceps he was then 41 years old, he did not use steroids, and most important - is a staunch vegetarian. Bill by example confirms that, giving up meat, people relieve your body of toxins and quickly gaining muscle mass:
"Seeing me, people refuse to believe that I do not eat no meat, no fish. They still believe that the meat - there is a basis for building up muscles. But I went and broke the myth! The meat there is no "magic" that would turn you into a champion! Everything you look for in a piece of meat, it is easily found in any other food. "
Vegan Athletes
Not all were able to realize the benefits of a vegan diet. Here are some of the sports stars who decided to take this winning experience:
Dr. David Reid, Bachelor of Medicine and Surgery, Fellow of the Royal Society of Physicians:
"As a therapist who specializes in sports nutrition, vegan and very active person, I have my own personal and professional experience of how nutrition affects the organism. Carbohydrate, energy-rich vegetarian diet provides the body precisely those foods that are best suited to him. Take advantage: refuse meat and win! "
Therapist, a member of the Crown corporation general practitioners, Dr. Reid is a vegan for many years, he has advised a number of national sports teams, including the football teams of the first division. For several years he worked at the Medical Commission of the British Olympic Association, was chairman of the Medical Committee of the International Table Tennis Association, athlete, rugby player. Now Dr. Reid continues to lecture and write articles on nutrition and sports medicine for physicians and laymen.
Sixto Linares: set a world record in the one-day's longest triathlon,
and showed great stamina, speed and strength in many charity events.